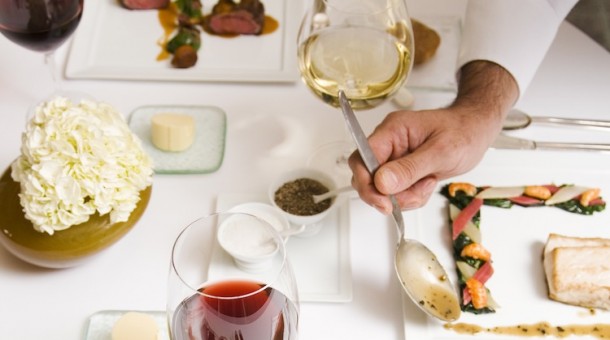 From exclusive VIP tables inside a restaurant's kitchen to chef's counters that enable you to watch your favorite cooks in action, here are some special prix-fixe ways to elevate your dining experience.
1. Alma
Watch your food plated from the counter at this buzzy Downtown spot. Chef Ari Taymor, heralded as one of the country's best young chefs, serves 10-course menus ($95 per person; wine pairings are $55 extra) directly from his kitchen, and chats with customers about everything from the restaurant's garden to cooking techniques. To get a sought-after seat, request it when you make the reservation (and cross your fingers). 952 S. Broadway, L.A., 213.244.1422
2. Patina
The secluded chef's table at Joachim Splichal's flagship restaurant seats up to nine, with a window looking directly into the kitchen, so you can see dishes like wild halibut a la plancha, butter-poached lobster and beef tenderloin with root vegetables come together, with special attention from chef Charles Olalia. The menu can be fully customized, or you can let Olalia run with it ($140 per person; $80 more for wine pairings). 141 S. Grand Ave., L.A., 213.972.3331
3. Providence
Although Michael Cimarusti's haute seafood spot (which scored two Michelin stars) now boasts a plush, newly redesigned dining room, the chef's table is where you want to be for an up-close-and-personal dining experience. From a private room just off of the kitchen, you can watch as chefs prepare and deliver your food. Cimarusti is very hands-on with the experience, which includes the frequently changing chef's tasting menu ($210 per person; $305 with wine pairings). It's also Bring Your Own Music, so you can plug in your iPod or phone to set the mood. 5955 Melrose Ave., L.A., 323.460.4170
4. Scarpetta
For the ultimate experience at Scott Conant's Italian stunner at the Montage Beverly Hills, dine with 13 of your friends in the private room above the kitchen. You'll see all the action while being served a four-, eight- or 12-course menu featuring his famous dishes like the beautiful crudos, creamy polenta with truffled mushrooms and braised short ribs with farro risotto. Or, buy out the chef's counter in the kitchen, which seats five. Both are priced at $1,500-$2,000. 225 N. Canon Drive, Beverly Hills, 310.860.7970
5. Trois Mec
Sitting at the counter at this impossible-to-get-into spot is like being on a TV show, thanks to Ludovic Lefebvre, uberpopular chef and co-host of ABC's The Taste. Ludo and his chefs work right in front of you, creating beautifully layered dishes and explaining each ingredient and detail of the prix fixe-only menu ($75 per person). The best way to nab a spot at the chef's counter: Dine as a pair or solo, and have your fingers ready every other Friday when tickets go on sale (they sell out immediately) for the next two weeks. 716 N. Highland Ave., L.A.