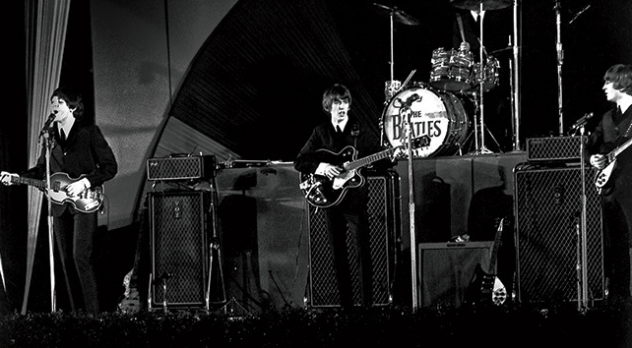 Dave Stewart of the Eurythmics heads up the Hollywood Bowl's all-star tribute to mark the Beatles' big 5-0…and that legendary first LA concert.
When they visited Los Angeles for the first time in the summer of 1964, the Beatles went to the Whiskey A Go Go, where George Harrison hurled a glass full of water at an annoying photographer and instead soaked actress Mamie Van Doren, who happened to be walking by. They attended a party in their honor at the Brentwood home of the mother-in-law of then-Capitol Records head Alan Livingston, where well-heeled parents paid $25 a pop (the money went to charity) to have their kids meet the lads, and where stars like John Forsythe, Edward G. Robinson, Groucho Marx, Rock Hudson, and Jack Benny joined the mop-top madness.
But the single most important event of their stay in LA—the one that leaps off the tip of every music-obsessed tongue whenever that time and place and those Liverpudlians are mentioned—was their concert at the Hollywood Bowl. And on August 22, 23, and 24, the Bowl will observe the 50th anniversary of that seismic happening with an equally seismic tribute. Dave Stewart of the Eurythmics, an über-Beatles fan, will serve as ringmaster and musical director.
"I've heard many stories from George, Ringo, and Paul about their experiences in the USA back in 1964, but the news footage of the Hollywood Bowl remains embedded in my mind," recalls Stewart, who was a close friend of Harrison. "Olivia Harrison [George's wife, who told Stewart she was at the Bowl, although she and George would not meet until years later] just recounted to me how crazy it was: 'Girls jumping into the pond at the front and swimming to the stage, limos with the roof squashed and windows gone, total hysteria.'"