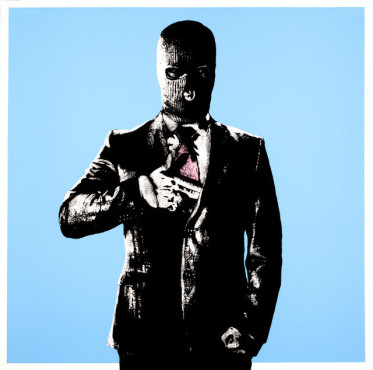 LAist gets a lot of event announcements, and we comb through them all to bring you a curated list of what's happening in LA this weekend, featuring these 23 events (and not even includingSundance's Next Fest.)
There's a pop-up street art gallery at the Hotel Sofitel on Friday night.
FRIDAY, AUG. 8
ART: On Friday for one night only, Black Apple Gallery transforms the Sofitel Hotel's lobby and Riviera 31 Lounge into a gallery space to premiere street/urban art from London, Paris, Norway and Japan. Featured artists in the Contraband 2 show: Ben Naz, Pobel, Snik, Ernst Zacharevic, Dot Dot Dot, John Doe, Seizer One, Harland Miller, Martin Whatson, Sandra Chevrier, Otto Schade and Mason Storm. 7 pm-2 am. RSVP needed.
MUSIC + DANCE: Levitt Pavilion presents KTOWN Night in MacArthur Park with a festival and dance party. The night features an array of food trucks, DJs Terry 'krNfx' Im, Mike B.,DJ Zo and a live guest performance by Ashley Yoon. Take Metro to the park and get 10% off Kogi BBQ truck. Festival is free. 6-10 pm.
FILM: US and the Game Industry is a new documentary that takes viewers into the inner workings of the game design industry. The film plays exclusively at Arena Cinema in Hollywood, opening Friday with a 7 pm screening and a Q&A with filmmakers. It's followed by an opening night party at Sadie (across the street). Tickets: $12.
ART + PERFORMANCE: It's the last event of the Friday Flights art and performance series at the Getty from 6-9 pm on Friday. Hosted by Mikael Jorgensen of Wilco and new media artist Cassandra C. Jones, they bring together friends to present four electronic music projects, an artist's lecture, a video performance piece and operatic tour of the Getty galleries. Free. Park for $10 after 5 pm.
COMEDY: The MisMatch Game! returns to the L.A. Gay & Lesbian Center's Renberg Theatre for performances this weekend on Friday and Sunday nights. The show parodies the 1970s game show The Match game with producer Dennis "Gene Rayburn" Hensley serving as host. He's joined by a panel of comics impersonating celebs. Friday's cast includes Rachel Butera as "Wanda Sykes," Drew Droege as "Tanya Roberts," Maile Flanagan as "Danny Bonaduce," Sam Pancake as "Rue McLanahan," and Nicol Paone as "Arianna Huffington." Sunday's cast features Jackie Beat as "Bea Arthur," Jackie Clarke as "Liz Taylor," Nadya Ginsburg as "Cher," Felix Pire as "Ricardo Montalbán" and Marc Samuel as "Bill Cosby." Tickets: $15. Show at 8 pm on Friday and 7 pm on Sunday. Free parking.
BEER FEST: Brew at the Zoo returns to the L.A. Zoo and Botanical Gardens on Friday from 7-11 pm. Dozens of breweries are participating in the event (including Eagle Rock Brewery, Lagunitas and Golden Road), which includes 4.5-oz beer samples, pub grub for purchase and live music by The Spazmatics, Indian School and the Jug or Nots. Tickets: $45 general admission (presale); $50 at the door (if not sold out); designated drivers: $25 (free non-alcoholic beverages in a zoo cup).
FILM: UCLA Film & TV Archives presents the series, What I Really Do Is Magic: Edith Head and Hollywood Costume Design. It opens Friday with a screening of Dead Men Don't Wear Plaid(1982) at the Billy Wilder Theater at 7:30 pm. This was Head's last film as costume designer, and the film's director Carl Reiner is joined by Deborah Nadoolman Landis and John Landis to talk about the film and Head's career.
SATURDAY, AUG. 9
CATBARET: On Saturday night, stars perform song and/or dance numbers for a CATbaret to benefit the feral cat rescue group Kitty Bungalow. The second annual Catbaret takes place at the Belasco Theatre in DTLA. Performers include Lord of the Rings' Billy Boyd, Castle's Jon Huertas and Seamus Dever, CSI's Elsabeth Harnois, Tia Carrere and more. Tickets: $50-$125.
K-POP: KCON, the largest annual fan celebration of Korean entertainment, K-Pop and culture, takes place at the L.A. Memorial Sports Arena, with a fan convention all day Saturday and Sunday. There are meet-and-greets, panel discussions and workshops (like Learn Korean Slang! and Bibigo's Anyone Can Cook Korean Food). There are also concerts that are featuring some of the top names in K-Pop, some of whom are making their U.S. debuts. Ticket range: $50-$250 + fees.
HALLOWEEN: Southern California's premiere Halloween convention ScareLA takes over the LA Mart on Saturday and Sunday from 11 am to 7 pm both days. The event brings the horror community and fans together for presentations, industry panels, hands-on workshops, onsite attractions and an exhibitor hall. The event also provides sneak peeks at some of the upcoming Halloween events in SoCal, from Universal Studios Hollywood's Halloween Horror Nights, Los Angeles Haunted Hayride, The Great Horror Campout, The Queen Mary's Dark Harbor and others. Single-day tickets ($25-$250). Passes: $46-$396
PHOTO: Teenage girls ages 11-17 from Boyle Heights are turning an underutilized alley into a public art gallery on Saturday from 6-8 pm. ESTA SOY YO: Me, Myself and I features images that document their lives and share their stories. Address: 1946 E First St. in Boyle Heights.
SUMMER NIGHTS: The last Chinatown Summer Nights of the season takes place from 5 pm to midnight on Saturday. Held at 943-951 N. Broadway (Central and West Plazas) in DTLA, there are a number of dining options, both brick-and-mortar and on wheels, shopping, art galleries, cultural activities, a beer garden and dance party with KCRW's DJ Anthony Valadez & Raul Campos.
FILM: Eat|See|Hear celebrates the 30th anniversary of one of the best 80′s John Hughes films,Sixteen Candles on Saturday with live music, food trucks and an outdoor screening of the film. Long Duk Dong and his Sexy American Girlfriend, portrayed by Gedde Watanabe and Debbie Pollack will intro the film, which will be held at Paul Revere Charter Middle School in Brentwood. Food trucks on site: Belly Bombz, Me So Hungry, Wicked Kitchen, The Gastrobus, Street Foods Co, Tokyo Doggie Style, The Pudding Truck, Coolhaus and Brasil Kiss. Tickets: $10-$20. Children under 5 are free.
ART: iam8bit art gallery in Echo Park presents The Hohokum™ Art Spectacular! on Saturday from 7-11 pm. The show features Hohokum art by the PlayStation game's creators/developers Richard Hogg and Honeyslug. Be among the first to play the game, too, as they'll have stations set up as well. The art will remain on view through Aug. 17.
SILENT FILM: The Academy of Motion Picture Arts and Sciences and Villa Aurora present the2nd Annual Silent Salon with silent films accompanied by Michael Mortilla on the villa's pipe organ. Head to the Pacific Palisades for a night of picnicking and film, featuring Charlie Chaplin in "The Adventurer," "Easy Street" and "The Rink." Come dressed as Charlie Chaplin to pick up a surprise gift. Admission: $15. Parking: Street Parking is available on Los Liones Drive. Shuttle service starts from Los Liones Drive, off Sunset Boulevard two blocks North East of Pacific Coast Highway. Grounds open at 5:30 pm and films at 8 pm.
PARTY: Swing House Studios celebrates 20 years in business and they're moving from WeHo to a new 21,000-square foot facility in Atwater Village. To say goodbye to the old location, they're throwing a party on Saturday with performances by The Beta Machine, Dorothy, Prima Donna and Alexa Melo. Eats from from Dogtown dogs and Archie's Ice Cream. Free with RSVP. 8:30 pm.
FLEA MARKET: The Silverlake Flea Market is this Saturday, held at the Micheltorena Street Elementary School. Check out vintage collectibles, DIY items, food trucks and live music.
PERFORMANCE: Materials & Applications in Silver Lake presents the performance series VIS-Á-VIS, featuring experimental and electronic music every Saturday night in August. Bring your dancing shoes for a DJ set by Daedelus and performances by Lawrence Lindell, Matt McGuire and Will Walden (StaG). Drinks provided by MacLeod Ale Brewing Co with audio support from dublab. 7 pm.
Read the rest at LAist.